Meet the Staff
---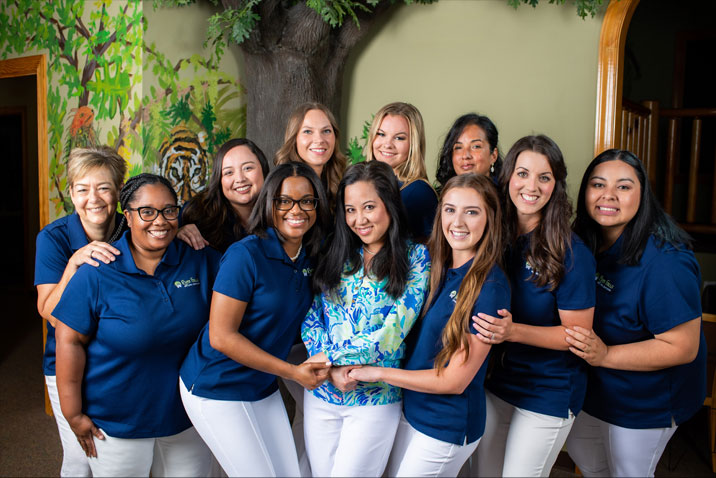 Maricela Arellano
Office Manager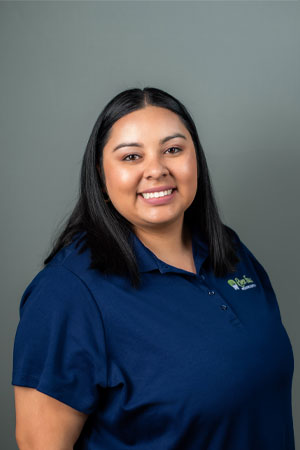 Maricela Arellano is a Spartanburg native and is a graduate of Dorman High School. She is originally from Guanajuato, Mexico and is bilingual, fluent in both English and Spanish. Maricela has been in the dental field since 2014 and has enjoyed every minute of it. She has worked in general, orthodontic, and pediatric offices where she has gained knowledge understanding dental insurance as it pertains to child/children's dental needs. As the office manager, Maricela enjoys building relationships with our patients and their families, and is a continued support to our staff members and growing office.
Outside the office Maricela loves spending time with her sweet husband, Beto, and their spoiled golden doodle, Phoebe. Maricela also loves to spend time with her family, and enjoys her outings with her three sister, niece, and nephews. She enjoys reading, shopping, and lake days.
Courtney Crookshanks
Administrative Assistant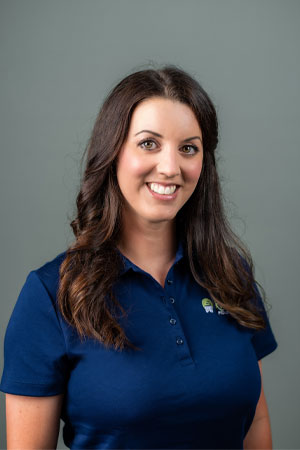 Courtney Crookshanks is a native to Duncan and is a Byrnes High Graduate. After 15 years in the Medical field, she decided to change into the dental field and has had no regrets. She enjoys learning new things and has excelled with the knowledge of dentistry since she has been with us. She is the first person you will meet and always greets our patients with a warm and friendly smile. She will do whatever she can to help and answer any questions you have. Her favorite part of working here is seeing the smiles and hearing the laughter of the children; she loves to see a child leave happy and excited to come back to see us- especially when they came in nervous or afraid. She has a big heart full of love, for kids and animals. When she's not at work she enjoys spending time with her husband on their small farm with their dogs and horses. She also enjoys time with her family and friends and loves going camping and traveling.
Andrea Stewart
Administrative Assistant and Dental Assistant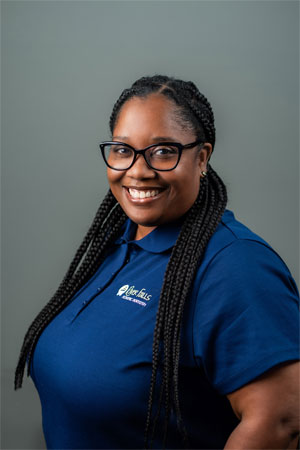 Andrea is an Expanded Function Dental Assistant and Administrative Assistant, and has been in the field of dentistry for the past 19 years, with 7 of those years being in the wonderful world of Pediatrics. Andrea graduated from Midlands Technical College, Class of 2003, in Columbia SC. Andrea is also a Veteran of the United States Air Force, it was with great duty and honor to be able to serve her country. Andrea has been a native in the Spartanburg area since 2010. Outside of the dental office, you can catch her spending time with her family and traveling. Andrea's favorite restaurant is Longhorn. Andrea absolutely loves the joy and passion of being able to work with children in Pediatric Dentistry. Andrea is so proud to be a part of Dr. Chana's RFPD team.
Karen Pulley
Registered Dental Hygienist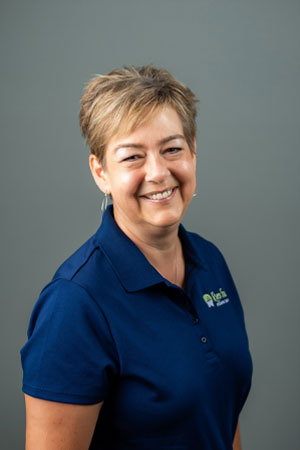 Karen Pulley was born and raised in Northeast Pennsylvania and brings 30 years of dental hygiene experience, with 17 of those years in pediatrics. She received her associate degree in science of dental hygiene from Northhampton Community College in Bethlehem, Pennsylvania. She has been a registered dental hygienist since 1991, and loves working with children and getting to know her patients, as well as their parents.
After living through many blizzards in the Northeast, her and her husband, Don, decided to move their family further south. In 2005, they settled in Simpsonville. They absolutely love the south and all it has to offer. They have 3 grown children, which all live in the Greenville area, they also have two fur babies; which, are more like children than dogs… very spoiled! Karen and her husband are anxiously awaiting the birth of their first grandchild.
Outside the office, she has a love for all sports. Being from Northeast Pennsylvania, all the Philadelphia teams have a special place in her heart. However, her passion is being a Clemson Tiger fan! She enjoys spending time with her family and friends, taking Disney trips, gardening, going for walks, cooking and exploring new things to do in the area.
She strives to ensure the children and their parents always feel comfortable during their visit. "It's very gratifying to educate and help parents understand the importance of dental hygiene."
Chinieka Jackman
Registered Dental Hygienist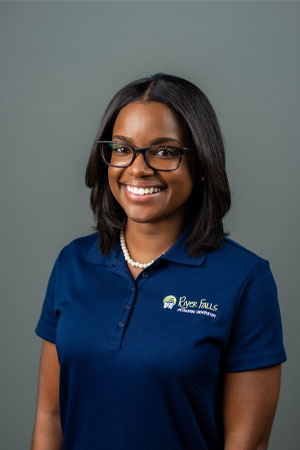 Chinieka was born in Hartford, Connecticut and raised in Charlotte, NC. She has always loved working with children. Her passion for pediatric dentistry began in 2016 when she worked as a dental hygiene assistant. Working in a pediatric dental office inspired her to advance in her dental career and pursue dental hygiene. After one year as a dental hygiene assistant, Chinieka relocated to the Upstate to continue her education at Greenville Technical College where she attained her Associate of Applied Science degree in Dental Hygiene in 2020. Chinieka has been working as a pediatric registered dental hygienist ever since.
Upon completing her A.A.S degree, Chinieka continued her education online at the Medical University of South Carolina (MUSC) where she attained a Bachelor of Science degree in Healthcare Studies. She graduated Summa Cum Laude and was the 2021 class valedictorian. Chinieka is furthering her education at MUSC and pursuing a master's degree in Health Administration. Her long-term career goal is to work with children while practicing interdisciplinary health within and beyond dentistry.
When Chinieka is not working or doing schoolwork, she enjoys shopping and binge-watching HGTV. Her favorite pastime is spending quality time with her sweet son, AJ, and loving boyfriend, Will. Together, they enjoy watching movies, playing board games, going on family outings, and exploring new restaurants around the Upstate.
Chinieka is dedicated to providing the best quality care to her patients. As a mother, Chinieka considers the kind of care that she would want for her own child. She knows that each child is different, and she strives to make every appointment unique to each patient. Chinieka is devoted to creating long-lasting relationships with her patients, and she values the time she gets to spend educating and getting to know them. Chinieka's philosophy is to love every patient through any fear or apprehension they may have of coming to the dentist. Her main goal is to ensure patient and parent satisfaction during every visit.
Camlin Hayes
Registered Dental Hygienist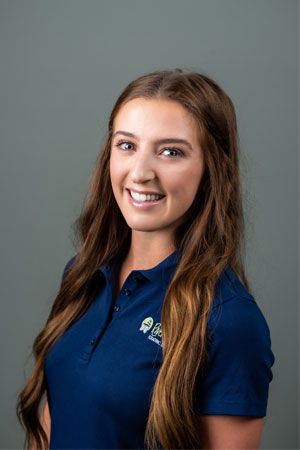 Camlin Hayes is a Duncan native and a 2018 Byrnes High School graduate. She graduated from Greenville Technical College in 2022, where she received her Associate of Science in Dental Hygiene! The part she enjoys most about pediatrics is being able to watch her patients grow up and build relationships with them and their families! Outside of the office, Camlin enjoys spending time with her boyfriend, Cole, and their two beautiful labs, Maci and Marlie! She also loves eating Mexican food and shopping!
Mayra Nava
Lead Dental Assistant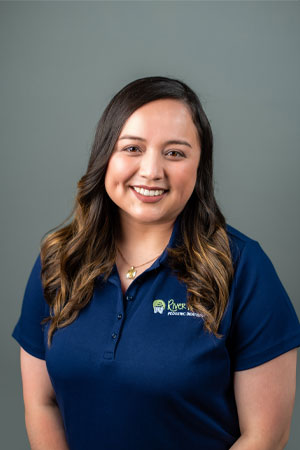 Mayra is a native to Spartanburg, SC. Where she attended Dorman High School. She then graduated with Honors from Spartanburg Community College where she obtained her Expanded Duty Dental Assistant Certification and is DANB certified. Mayra is Dr. Chana's Lead Assistant, and has been working right by her side for the past three years in the office and the OR. Mayra started her dental career in 2014, where she started as a front desk administrator, working there she realized her passion for dental and pursed her career to become a dental assistant. Mayra always enjoyed going to the dentist when she was younger, and would leave with a big smile every time, and that is her goal with every patient that she assists with. Mayra loves seeing our patients smile and believes that love and patience is key to a great visit. You can always find her laughing and having a great time with our patients and getting to know them. Finding out her patient's favorite color to their favorite movie is Mayra's favorite part of the day.
When Mayra is not at the office, she enjoys her time with her family and husband, Fermin. Mayra also enjoys going for walks with her two fur babies; Nala, a Golden Retriever and Lola, a Golden Doodle. She is also bilingual, fluent in Spanish & English. Mayra and her husband are thrilled to be expecting their first baby, and are anxiously awaiting this new chapter in their life. She enjoys shopping, dancing, watching movies, and going on new adventures with family and friends.
Aisha Santana
Dental Assistant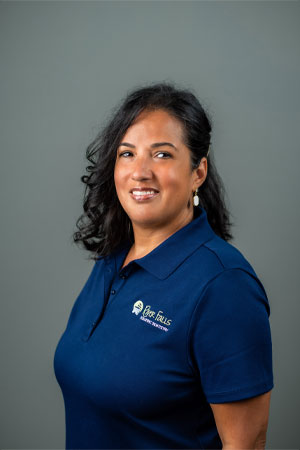 Aisha has been a Dental Assistant for 32 years. Her journey as a Dental Assistant has allowed her to work in Community Health, SC Department of Special Needs, Pediatric and general practices. She enjoys volunteering for dental community health services for those in need. Beyond serving patients, she can be found exercising, and walking her sweet Pitt-bull, Kobe. Most of all she enjoys spending time with her son CJ and her daughter Logan.
Molly Lynn Smith
Dental Assistant
Molly Lynn has had an interest in teeth as long as she can remember. When she was a baby, she loved to sit in her mom's lap and watch her mom's dental appointments, and friends would often bring her toothbrushes, which were a favorite treat. A Greenville native, Molly did several dental assisting apprenticeships before joining the River Falls team in January 2022.
"I have loved working with Dr. Chana and the awesome team at River Falls. Making a child more comfortable with an exam or a procedure brings a lot of joy to my tender heart. We have such a great time creating a fun environment for kids at River Falls."
In addition to her position at River Falls, Molly Lynn is a dance teacher and choreographer. She loves seeing her students grow in their love of dance. "I think my experience as a dance teacher helps me in working here in the office as we are always teaching and encouraging with everything we do." During hockey season, you can catch Molly cheering as a Rabbette for the Greenville Swamp Rabbits.
Anastasia Kazadaev
Dental Assistant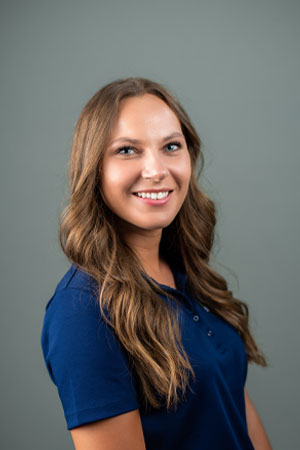 Anastasia Kazadaev was born and raised in Bellingham, Washington, and moved to Spartanburg, South Carolina, in 2006 with her parents. She is a second-generation to first generation-immigrant parents from Ukraine. She is trilingual and fluent in Russian, Ukrainian and English. She is a graduate of Chapman High School. She later attended Capstone Career Development Center to become a Certified Dental Assistant.
As a child, she went to a general dentist office, which left a negative impression on her. After being referred to a pediatric office, she saw an entirely new side to dentistry. The staff made her feel comfortable and made every visit an enjoyable experience. Afterward, she made it a personal quest to help other kids feel the same about their dentist visits.
Outside the office, she enjoys lake and pool days and hikes with her eleven siblings and four nieces. She has one furry friend Lexi, that is seven years old and is the sweetest thing ever.